Uncategorized
The Decorating Benefits of a Round Area Rug
Round area rugs are the most versatile types of rug given the fact that they come in a variety of colors, materials, and designs. A round rug acts as the focal point in the room and a unifying element that ties together the design of a room. It even creates a cozy environment for holding intimate conversations as well as adding a splash of color and character.
If you are seeking to add some warmth and cushioning to the cold floors of the house, simply throw in a round area rug. A carefully selected round rug can even be seen as a piece of artwork that you can hang on the wall to add to the wall decorations.
Here are some of the practical benefits of using a round area rug:
A round rug visually opens up a small room and makes it look larger. If you are living in an apartment, this is the perfect shape of a rug to use as it softens the sharp edges of furniture making the area look more spacious.
Using a round area rug will make the room have that designer element and appearance. The circular shapes echo other circular elements in the room such as lighting fixtures, room architecture, and other room accessories.
Round rugs create a rich and luxurious feeling to a room. Laying them on the hardwood floor or tiles creates warmth, softness and a sense of class and style. You do not need to own a lot of money to achieve this effect. A simple round rug does the magic.
A round rug acts as a focal point of the room creating an inviting area for family gatherings and conversation area.
Round area rugs successfully offset the rectangular and linear nature of furniture, walls, floors, and doorways. That way, the area looks soft to the eye.
Tips to Help You Choose A Round Rug
It is obvious that round rugs open up many decoration possibilities. Their shape creates some sense of symmetry and balance that unify the area.
The following pointers will help you in choosing the perfect round rug for your space:
If you want the rug to be a focal point, choose one with a medallion or design feature at the center. However, if there is a focal point like a fireplace, use a rug with a soft pattern that will not bring out the competition.
If the room has some upholstery with a busy pattern, choose a round rug with a subtle pattern so that the place does not look awkward and confused.
If the upholstery is plain, it is best to use a rug with some dramatic designs and patterns that will create some interest and make the area look attractive.
If you wish to make the room look larger, use a round rug with abstract designs, bright colors, and large flowers.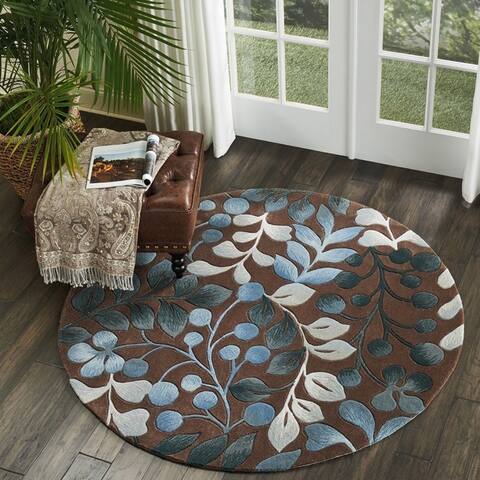 You can agree that round rugs are quite a piece of art, and using one makes the area look expensive with a designer touch. Do not be left out on this priceless acquisition. You can shop for round rugs online or go to the stores in person. Whatever the case, you will still get a rug that you will fall in love with.